6.25 PM IST
Sunny Deol, who was in Punjab to file his nomination as a BJP candidate from Gurdaspur, flew back to the bay to cast his vote.
6.16 PM IST
Better late than never! The fourth phase of the general elections 2019 is almost to come to an end, and we have Malaika Arora, arriving to vote.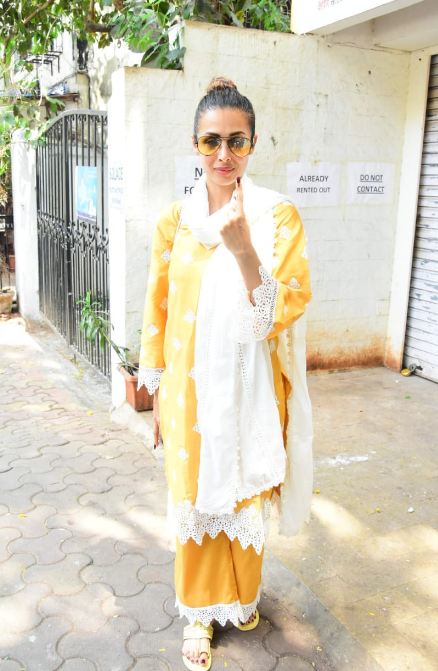 5.44 PM IST
From bagging a film on PM Narendra Moti to having the film indefinitely delayed, Vivek Oberoi has had an eventful time of late. The BJP star campaigner (in Gujarat) shared a photo with the family after they all were done voting.
5.15 PM IST
Anushka Sharma is telling you what we all are...go vote!
4.53 PM IST
The king is out to choose a new ruler! Shah Rukh Khan, as he arrived to cast his vote, was accompanied by wife Gauri Khan and youngest son AbRam.
Live Update
The business of the festival of democracy, as we call it, has taken over Mumbai on Monday! Lok Sabha Elections 2019 began about a week back and has been unfolding in phases. Mumbai, which is home to probably the largest number of celebrities in the country, also gears up to vote. From Shah Rukh Khan, Abhishek Bachchan, Ranveer Singh and Ranbir Kapoor, Anil Kapoor and family, Shahid Kapoor and Mira Kapoor among many more are expected to cast their votes across the city today.
Several high-profile names, on behalf of various political parties, are contending from their respective constituencies. Actor Urmila Matondkar, who recently joined the Indian National Congress, has been nominated to fight the elections from Mumbai North. She's onto the battle with BJP's Gopal Shetty. Mumbai North-Central, on the other hand, has actor Sanjay Dutt's sister Priya Dutt upholding the Congress flag. Priya has been fielded against BJP's Poonam Mahajan. Mumbai North-West will see Congress' Sanjay Nirupam and Shiv Sena's Gajanan Kirtikar fighting for the seat. Congress candidate Milind Deora has been fielded against Shiv Sena's Arvind Sawant in South Mumbai. Congress and Shiv Sena's battle will be repeated in Mumbai South Central as well.
Stay tuned to in.com as we give you a closer insight to what the city's celebrities are up to, on the big voting day!